The advantages of using a water jet cutting system
2022-09-21
The advantages of using a water jet cutting system include:
Cold Cut:
This process generates very little heat, so the material never changes.
Versatility: From cutting details in stone, glass and metal to cutting food or thick titanium, waterjets do things no other technology can.
No warping: water jet cutting will not warp the target material
Fast speed: Water jets typically only change the cutting speed, from one material to another, with very low cutting forces, resulting in very short part-to-part times.
Protect the environment: No harmful gases or liquids are used in water jet cutting, and the water jet does not generate harmful substances or vapors.
No Edge Damage: Completely free from thermal damage stress. Satin Smooth: All abrasive waterjet cut surfaces have a surface finish of 80 to 125 Ra. Pure water jet cutting is smoother
No secondary operations: Parts are generally used as is, with the exception of tapping, bending, etc.
Waterjets are ideal for any manufacturing business looking to reduce costs and increase efficiency. Most people find that waterjets complement other technology investments that increase overall shop efficiency, and waterjets are the best edge.
The following materials can be cut: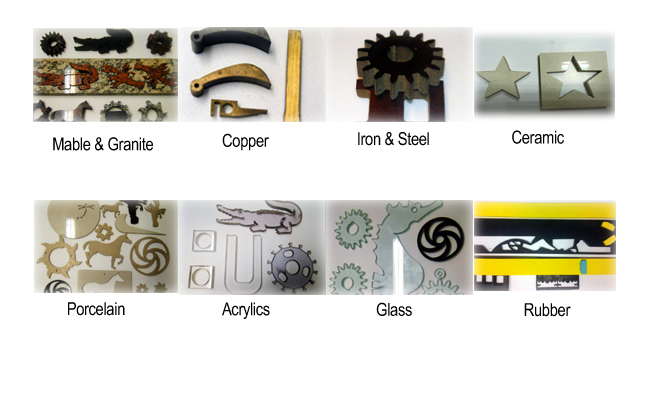 Comparison between water jet and other cutting methods:
1. Water jet cutting
Process: Erosion with high-speed abrasive water jet
Secondary processing: No secondary processing required, water jet is a cold cutting process with no heat affected zone
Cutting material: any substance
Cut Thickness: Up to 24 inches, any material, Z-axis constraints limited to thickness
Part Accuracy: Up to .001 inches
Machine Setup: Same setup for all materials
2. Plasma cutting
Process: Combustion/melting using high temperature ionized gas arc
Secondary processing: Secondary processing is required, slag grinding to remove the heat affected zone (HAZ) and to eliminate the deformation caused by the hot assist gas used to affect the depth of the HAZ
Cutting material: mainly steel, stainless steel and aluminum, etc.
Cutting Thickness: 2-3 inches max, depending on material
Part Accuracy: Up to .010"
Machine Settings: Different Settings for Different Jobs
3. Laser cutting
Process: Melting with concentrated laser beam
Secondary processing: Sometimes removal of oxidized edges and heat affected zones. The impact depth of the gas used on the heat affected zone
Cutting material: Various materials, but mainly steel, stainless steel and aluminum
Cut Thickness: Typically 1 inch or less, depending on material
Part Accuracy: Up to .001 inches
Machine settings: different gases and parameters for different jobs
4. EDM cutting
Machining process: Erosion with electric discharge
Secondary processing: Usually not required. very weak heat affected zone
Cutting material: only suitable for conductive materials
Cutting thickness: generally no more than 12 inches
Part Accuracy: Up to .001 inches
Machine Setup: Different Wire Types for Different Jobs